News
PFS300A can source up to 300W for noise sensitive medical & industrial applications.
Daito Electron Co., Ltd. (Miyahara, Yodogawa-ku, Osaka, Japan ) just announced to release Ultra Low Noise/Low Leakage AC to DC 300W switching power supply product <P/N: PFS300A > suitable for noise sensitive applications. Customer can save external isolation transformer and filter components.
Designed ideally for noise sensitive applications - Medical instruments / Test & Measurement Instruments / Semiconductor inspection / Visual inspection - .
Customer Engineer can replace current power supply products to save space and weight.
PFS Series can provide high efficiency, low leakage current with small level of output noise dramatically down to less than 10mVp-p range compared with general AC/DC switching power supplies have 10 times or more.  It also meets the EMI class B requirements.
Leakage current is only less than 200uA at 264Vin (60uA at 100Vin)conditions. Also provide protection features - OVP / OCP. Remote control can be used.

<Main Features>
  - Ultra Low Noise
     o 10mVp-p Ripple & Noise (100Vin, 25C)
  - Low leakage current
     o 60uA @100Vin, 200uA @264Vin
  - High Efficiency
     o Up to 89%
  - Green Conscious
     o RoHS free, Halogen Free PCBs, Vinyl Chloride free.
  - Safety Standards
     o EN/UL60601-1, EN/UL60950-1 * Approval pending
  - Voltage Output Option
     o 12V, 15V, 24V, 30V, 48V

<Application>
  - Medical Diagnosis instruments, Test & Measurement instruments, Image processing,
  Nanoscale Analysis, Semiconductor inspection, X-Ray, Microscope, Digital Audio,
  Analog Amplifier
  - Replacement from Linear Power Supply


   <Contact information>
     Daito Electron Co.,Ltd. Address: 6, Kojimachi, 3-Chome, Chiyoda-ku, TOKYO 102-8730 JAPAN
Email: ask-mbh@daitron.co.jp Phone: +81(0)-3-3264-0261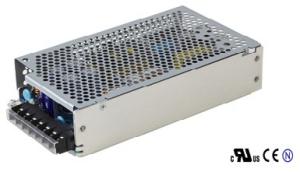 PFS300A